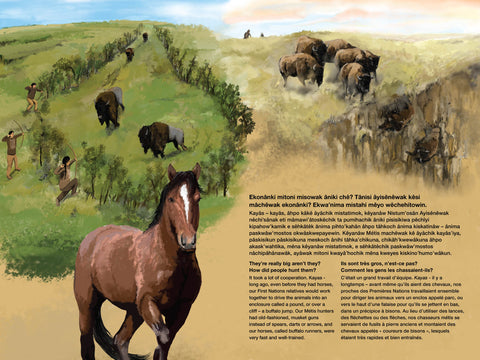 ONLINE EXHIBITION
First Nations Buffalo Hunting
They're really big aren't they? How did people hunt them?
It took a lot of cooperation. Kayas - long ago, even before they had horses, our First Nations relatives would work together to drive the animals into an enclosure called a pound, or over a cliff – a buffalo jump. Our Métis hunters had old-fashioned, musket guns instead of spears, darts or arrows, and our horses, called buffalo runners, were very fast and well-trained.
---
Ils sont très gros, n'est-ce pas? Comment les gens les chassaient-ils?
C'était un grand travail d'équipe. Kayas - il y a longtemps – avant même qu'ils aient des chevaux, nos proches des Pre-mières Nations travaillaient ensemble pour diriger les animaux vers un enclos appelé parc, ou vers le haut d'une falaise pour qu'ils se jettent en bas, dans un précipice à bisons. Au lieu d'utiliser des lances, des fléchettes ou des flèches, nos chasseurs métis se servaient de fusils à pierre anciens et montaient des chevaux appelés « coureurs de bisons », lesquels étaient très rapides et bien entraînés.
---
Ekonânki mitoni misowak âniki chê? Tânisi âyisênêwak kêsi mâchêwak ekonânki?
Ekwa'nima mistahi mêyo wêchehitowin. Kayâs – kayâs, âhpo kâkê âyâchik mistati-mok, kêyanâw Nistum'osân Ayisênêwak nêchi'sânak eti mâmawi'âtoskêchik ta pumihachik âniki pisisikiwa pêchîyi kipahow'kamik e sêhkâtêk ânima pih-to'kahân âhpo tâhkoch ânima kiskatinâw – ânima paskwâw'mostos okwâskwepayewin. Kêyanâw Métis machêwak kê âyâchik kayâs'iya, pâskisikun pâskisikuna meskoch ânihi tâhka'chikuna, chikâh'kwewâkuna âhpo akask'wahtika, mêna kêyanâw mistatimok, e sêhkâtêchik paskwâw'mostos nâchipâhânawâk, ayâwak mitoni kwayâ'hochik mêna kweyes kiski-no'humo'wâkun.
Head-Smashed-In Buffalo Jump Information Guide

Buffalo Tracks Education Guide
Blood Kettles and Buffalo Jumps, blog