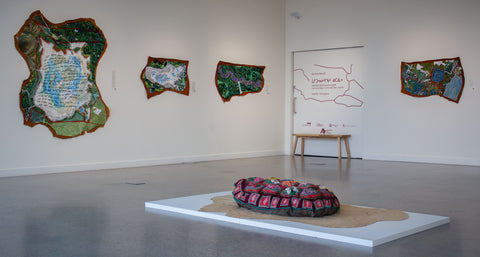 MAIN EXHIBITION
Main Exhibition Space
The Art Gallery of St. Albert is looking for artists to feature in our 2025 exhibition year. We welcome artists, artist groups and curators of all artistic and cultural backgrounds working in all styles and mediums to propose an exhibition by sending in a submission by February 29, 2024. 
The Art Gallery of St. Albert is a contemporary, non-profit, public art gallery. With three exhibition spaces, we can host between 12 and 14 shows per year, sharing a wide range of artworks, styles and experiences with our community.   
Submission deadline is February 29, 2024.
Download:
Image credits: Yvonne DuBourdieu and Margaret Witschl, Tethers, 2023; Heather Shillinglaw, ᒫᒥᑐᓀᔨᐦᒋᑲᐣ ᑯᑖᐄᐧᐤ mâmitonêyihcikan kotâwîw my mind digs in the soil like a turtle, 2023; Kelsey Stephenson, Connected Currents, 2023; Riaz Mehmood, Remember - Resist - Relive, 2023; Tammy Salzl, Beautiful Parasites, 2023.