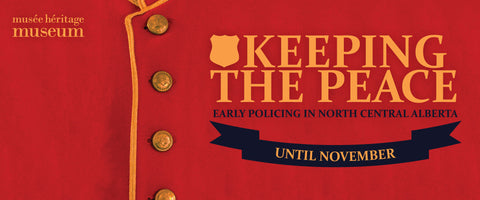 Keeping the Peace: Early Policing in North Central Alberta
January 28–November 21, 2020 at Musée Héritage Museum
Here's an opportunity for you and your family to get a fascinating glimpse of law enforcement in North-Central Alberta; from First Nations and Métis concepts of justice, to modern civic and national law enforcement.
Keeping the Peace is produced in partnership with the Fort Heritage Precinct. It describes the evolution of policing in areas around St. Albert, Edmonton and Fort Saskatchewan including the creation of the North West Mounted Police, Alberta Provincial Police, and the Royal Canadian Mounted Police.
Covering hundreds of years of history, the exhibition will introduce you to the first policeman in St. Albert, describe the "Laws of the Buffalo Hunt" that the Métis used to manage large groups of people from different communities, and look at how the arrival of policing bodies from settler communities affected the people of the region.