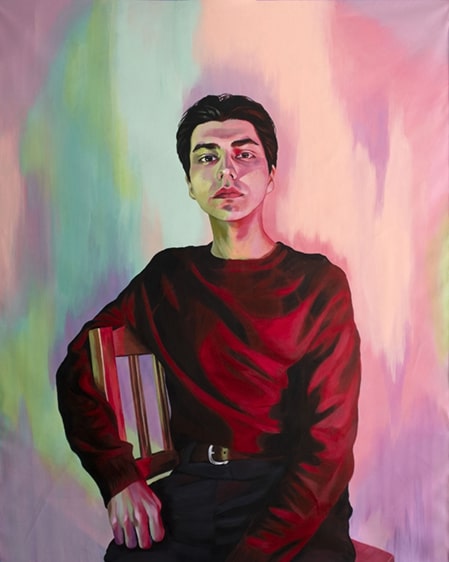 MAIN EXHIBITION
In Good Company
Lauren Crazybull, aAron Munson, Gillian Willans, Emmanuel Osahor, Sharon Rose Kootenay, Jason Symington and Preston Pavlis
November 9, 2021 to February 5, 2022

For the past 10 years, the Eldon + Anne Foote Edmonton Visual Arts Prize has recognized outstanding artists from the Edmonton region. The prize was established with the generous support of the Eldon + Anne Foote Fund at Edmonton Community Foundation and in partnership with the Edmonton Arts Council and CARFAC Alberta. 
To mark this illustrious anniversary, the Art Gallery of St. Albert is hosting the first ever exhibition in association with the Eldon + Anne Foote Edmonton Visual Arts Prize.  
In Good Company brings together the three most recent award winners Lauren Crazybull, aAron Munson and Gillian Willans with all the artists on the 2021 award short list, including Emmanuel Osahor, the creative duo Sharon Rose Kootenay and Jason Symington, and this year's winner: Preston Pavlis. 
In Good Company is meant as a gathering point, bringing together seven unique artists from across disciplines who are connected by this single shared experience. Described as humbling and surprising, each was honoured to be recognised by Edmonton's vibrant and hard-working artistic community.  
In conjunction with the exhibition, the Art Gallery of St. Albert and CARFAC Alberta will be hosting two virtual panel discussions, giving artists the opportunity to share their own practices and experiences. In January 2022 we will be hosting a closing reception, inviting the Edmonton arts community together for a long-awaited celebration.  
Special thanks to the Edmonton Community Foundation. Without their generous sponsorship In Good Company and its programmed events would not be possible. And thank you to CARFAC Alberta for their assistance in bringing this exhibition to life. 
---
Lauren Crazybull,
 

Power and Vulnerability, Acrylic on canvas, 64×52", 2019