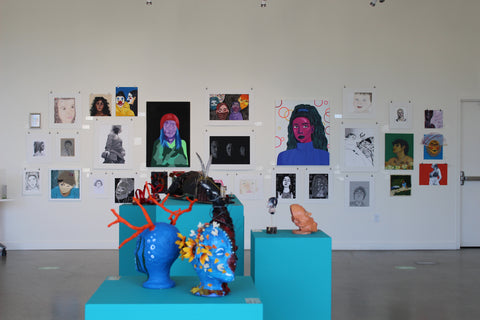 MAIN EXHIBITION
High Energy 27
St. Albert High School Students
May 5 to June 4
High Energy is back! After two years of being presented virtually, the Art Gallery of St. Albert is delighted to open High Energy 27 for in-person viewing in May 2022. 
Dozens of local high school artists will be showing over 100 pieces. These students, from Bellerose Composite High School, École Alexandre-Taché, École Secondaire Paul Kane High School, St. Albert Catholic High School and Outreach High School, channel what they know into their work. Bold and candid, the students share their observations in sculpture, painting, drawing, mixed media and more. 
These young artists offer us a rare, unfiltered look into their world. And it may no longer be a familiar one. Students, perhaps more than anyone else, have experienced profound changes to their anticipated path over the last two years. They have had to boldly forge a new course into the unfamiliar.
At the center of High Energy 27 will be a collaborative installation. Suspended from a large metal structure will hang hundreds of small artworks, each inspired by the humble polaroid. Instant, informal and spontaneous, they bravely celebrate a new-normal – the everyday lives of today's students. 
Join the Art Gallery of St. Albert to celebrate the creativity, skill and innovation of our community's incredible youth.