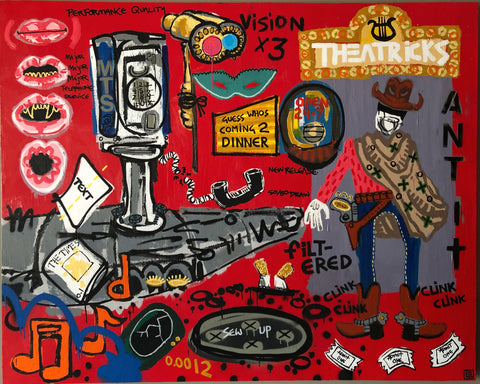 MAIN EXHIBITION
Transmission
Lonigan Gilbert
October 6 to November 12
Transmission confronts us with a no-holds-barred, brutally honest assessment of contemporary communication.
In his first solo exhibition, Lonigan Gilbert boldly tackles difficult subjects, often accompanied by a wry and slightly macabre sense of humour. A member of the Fisher River Cree Nation in Treaty 5 territory, this emerging multidisciplinary artist has been living and working in amiskwaciywaskahikan, Treaty 6 territory, since 2016.
Gilbert's cacophonous works are densely packed. Riots of colour and text fill the canvas, leading us through the scenes at a dizzying pace. An impressive range of art media are used to a spellbinding effect. Highly symbolic, the artworks feature icons from literature, music and films sitting side by side with references to historic people and places.
We are led through a gripping visual journal that reveals the artist's observations of our chaotic contemporary world. Raw and powerful, Gilbert's work takes aim at our inattentive society. He is piercingly critical of the prolific culture of division, which enshrine pontification over dialogue and a perpetual cycle of 'othering.'
When the facades are dropped and distractions put aside, we are left with a call to honestly see one another. Within the mess and complexity, Gilbert encourages us to recognize all people as people first.
---
Image credit: Lonigan Gilbert, Performance Quality, Acrylic on canvas, 48×60", 2022