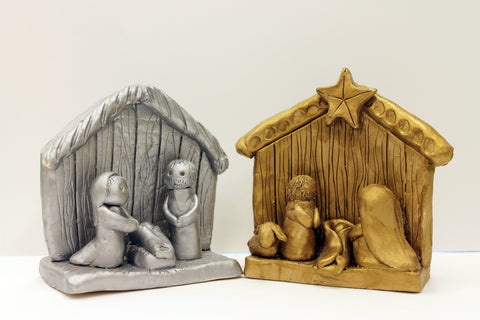 Standing Manger
Grade(s): 4, 5, and 6
Location: Visual Art Studios at St. Albert Place (Art Gallery of St. Albert)
Program Delivery: In Person, In School, and Virtual
Students create a detailed 3D nativity scene that stands on its own. It's a keepsake for years to come.
Seasonal class, running through winter months until early December.
*Note: All in school and virtual clay programs use air dry clay which is much less durable than clay that is bisque fired at our visual art studios. We cannot transport clay from in-school programs to the visual art studios for firing, but if your school has a kiln and a technician, we can supply suitable clay for firing at your school. 
Click here for information on in school techniques for finishing air dry clay.
Curriculum
Religions with histories from ancient times and cultures
Art: refining forms, creative process, expression and celebration, fine and gross motor skill development
Student Outcomes
Explore how texture can be used to create a visual effect
Learn what clay is and where it comes from; why it is bisque fired in a kiln; how to use clay and clay tools safely in a professional studio
Differentiate between two and three dimensional shapes