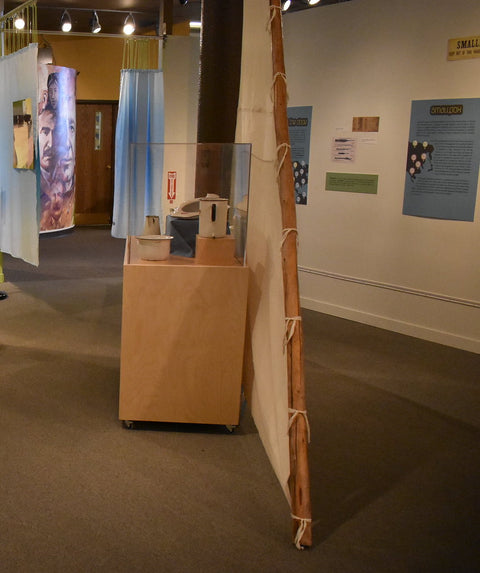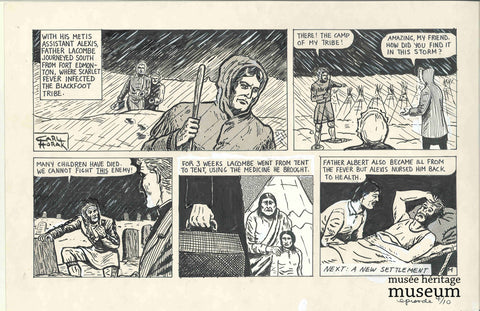 ONLINE EXHIBITION
Smallpox
Caused by a virus, small pox has been around for thousands of years. A similar rash has been found on Egyptian mummies dating to the 3rd century BCE. It spread as humans travelled and traded their way around the globe. Smallpox appeared in the West Indies in 1507. It was first reported along the St. Lawrence River in 1616. Missionaries, travelling to assist indigenous victims, actually helped it to spread.
One of the most dreadful stories in the history of smallpox recounts the 1763 suggestion by Sir Jeffery Amherst to crush the Odawa people by 'giving' the disease to members of their resistance. "You will do well to try to inoculate the Indians by means of blankets as well as to try every other method that can serve to extirpate this exorable race." It is not known whether he followed through on his idea. At Fort Pitt (Pittsburgh), the Delaware Nation was intentionally targeted by trader William Trent. He wrote in 1763, "we gave them two Blankets and a Handkerchief out of the Smallpox Hospital. I hope it will have the desired effect."
The smallpox pandemic in the west "…originated at Fort Union Missouri in the Fall of 1869, some Crow Indians visiting that place caught the infection from the whites who came up in the steam boat. From the Crow Indians it was communicated to the [Pagan] Indians who suffered severely from its ravages Winter 1869/70 and in the spring of 1870 the Epidemic spread to the Blood Indians & from them was to the Blackfeet & Crows & Stone Indians…"
–Richard Hardisty, 1870
Chief Factor Richard Hardisty's accounting of deaths from smallpox:
Pagans – 1080 of all ages
Blood Indians – 630 of all ages
Black feet – 676 of all ages
Circees [Sarcee] – 200 of all ages
Assineboines – 100 of all ages
St. Albert – 320 of 800 people
Lac Ste. Anne – 40 of 400 people
Fort Edmonton [First Nations] – 30
Victoria [Settlement] – 55 of all ages
Whitefish lake – 50 of all ages
Lac La Biche – 13
St. Paul – 150 of all ages
Fort Pitt [Saskatchewan] – 100 of all ages
Fort Carlton – 100 of all ages
= 3,544 people died in the epidemic of 1869/70.