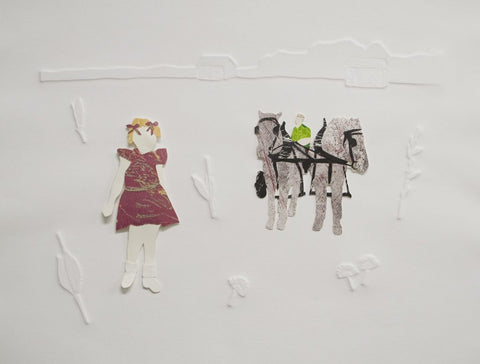 STAIRCASE FEATURE EXHIBITION
Paper Dolls
Pat Grayston

March 10 to June 6

Paper dolls act as surrogates in artist Pat Grayston's thoughtful cut and embossed paper works. Grayston's dolls are ambiguous, they represent young girls of past eras, stand-ins for the many farm girls who grew up on the Prairies and experienced the busy existence this time required.  
"A child learned to look after oneself very early in such an environment since one's parents were busy and had very little time outside of work. This was not unique. Anyone growing up on a prairie farm from that era will relate to the stories presented", says Grayston. 
The artist chose embossing, rather than drawing, to allude to memories which are not entirely distinct. The dolls are removed from the paper to parallel a life in which we exist on the earth, but are separate from it, we are part of the world but not in it. 
Grayston's dolls are rendered from her own artwork, prints, intaglio, lithography and woodcut. Recycling her own art into a new project is a rejuvenation of herself. Similarly, in life we draw from our previous experiences. 
The artist recounts her childhood growing up in rural Saskatchewan in the 40's and 50's in this nostalgic and delicate exhibit.  
Image Credit: Pat Grayston, Horse Power, Collage on embossed paper, 25×21", 2019.