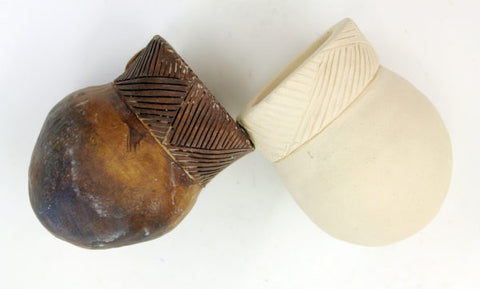 Iroquois Inspired Pottery
Grade(s): 5, 6, 7, 8, 9, 10, 11, and 12
Location: Visual Art Studios at St. Albert Place (Art Gallery of St. Albert)
Program Delivery: In Person, In School, and Virtual
Pottery has been used by North Americans for over 3000 years as a means to cook and store food or precious items. The Iroquois, Haudenosaunee or "People of the Longhouse" made clay pots with rounded bottoms that sat on hot coals or hung over cooking fires. Students will learn traditional methods of vessel construction using slabs and clay coils to create a decorative clay pot, inspired by ancient Iroquois artifacts.
*Note: All in school and virtual clay programs use air dry clay which is much less durable than clay that is bisque fired at our visual art studios. We cannot transport clay from in-school programs to the visual art studios for firing, but if your school has a kiln and a technician, we can supply suitable clay for firing at your school. 
Click here for information on in school techniques for finishing air dry clay.
Curriculum
Canada the Land, Histories and Stories
Canada: Origins, Histories & Movement Of Peoples
Student Outcomes
Explore how texture can be used to create a visual effect
Learn what clay is and where it comes from; why it is bisque fired in a kiln; how to use clay and clay tools safely in a professional studio
Going beyond previous levels of pinch pot clay modelling to more advanced coil vessels