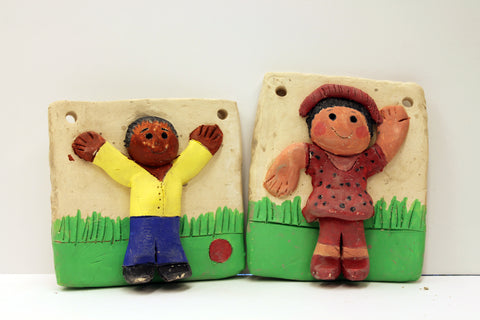 I'm Unique
Grade(s): Pre-Kindergarten, Kindergarten, 1, 2, and 3
Location: Visual Art Studios at St. Albert Place (Art Gallery of St. Albert)
Program Delivery: In Person, In School, and Virtual
We are all different in many unique ways. In this clay class, students learn to celebrate their differences by creating a self-portrait in clay. 
This project makes a delightful gift for Christmas, Mother's Day or Father's Day. 

*Note: All in school and virtual clay programs use air dry clay which is much less durable than clay that is bisque fired at our visual art studios. We cannot transport clay from in-school programs to the visual art studios for firing, but if your school has a kiln and a technician, we can supply suitable clay for firing at your school. 
Click here for information on in school techniques for finishing air dry clay.
Curriculum
Art: refining forms, creative process, expression and celebration, fine and gross motor skill development
Social: belonging and connecting, my world, home, school, community
Science: shapes, experimentation, critical thinking, problem solving and decision making
Student Outcomes
Learn what clay is, where it comes from; how to use clay and clay tools safely in a professional studio 
Students connect with world cultures and experience diversity
Experiment with drawing, impressing, rolling, and coiling clay in order to create  low relief shapes on a slab of clay
Suggested Pairings
Exploring Art – Art Gallery of St. Albert
I Belong – Musée Héritage Museum