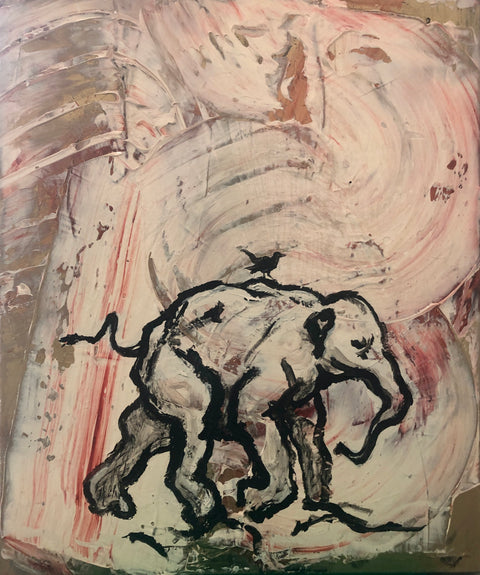 Richard Tosczak
Il Merlo - George visits Catania #3
We offer interest-free payment plans. Contact us to learn more.
Available for local pickup at Art Gallery of St. Albert: 19 Perron Street, St. Albert AB T8N 1E5
Acrylic on canvas
36x30"
This painting is part of a series of eight canvases made in Edmonton shortly after Richard's father's death. George Tosczak was a painter and story teller known for his mix of contemporary landscape, folk art and written word resulting in a lively rendition of prairie stories.
The elephant became a motif for him while dealing with his father's Alzheimer's. At the peak of our difficulties, while his needs were still not being met, a baby elephant had a role in an important dream that essentially declared the death of the George we knew previously. The elephant imagery, balancing on top of a column, was first exhibited in 2014's 'Beneath the Sun' at Scott Gallery.
Eight years later Richard and his wife Angela, visited the piazza del duomo in Catania, Sicily. In the piazza there is a fountain with an an obelisk stacked on top of a sculpture of an elephant. Richard instantly had the sensation of being exactly where hr should be in the world at that moment.
This canvas is one of eight canvases that revisit the elephant motif. Richard's father, George passed away peacefully at home in 2022. A few weeks after the funeral he set to work with him in mind. He trowelled in a thick bronze, quinacridone burnt orange and unbleached titanium underpainting that, only after, he realized invokes both the living earth around the very active volcano Etna and the rich curving forms of Sicilian baroque architecture. Richard then overlayed elephant drawings in a thick bone black gel. He added columns to two of these paintings and an obelisk to another. Finally, he added the blackbird.
When George passed away Richard was in Sicily. Later that same day a Blackbird, 'Merlo' in Italian, perched itself on the terrace and stayed awhile. Right away Angela looked up the meaning; because Blackbirds don't come and sit on our terrace ever. The Blackbird is a spiritual messenger that "invites you to listen to the inner call and embark on a life guided by the heart and meeting one should lead us to reflect on our life purpose, on how we are behaving to fulfil what we have been called to accomplish." Richard truly feels that George visited Catania and said goodbye.