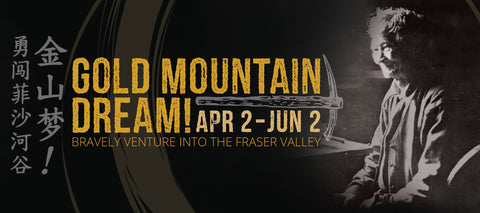 Gold Mountain Dream!: Bravely Venture into the Fraser Valley
April 2–June 2, 2019 at Musée Héritage Museum
An exhibition created by the Royal BC Museum in collaboration with the Canadian Museum of History.
Through meticulously chosen archival photographs and immersive storytelling, Gold Mountain Dream! illustrates the personal triumphs and sacrifices of Chinese migrants in the 1850s as they landed on British Columbia's shores in search of gold.
The Musée Héritage Museum will be adding local St. Albert content with tales of prospectors willing to risk it all for gold.
Dumplings and a Movie!: Saturday, April 13 from 2–4 pm