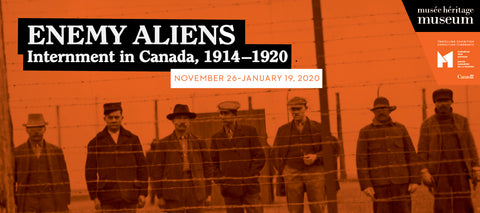 Enemy Aliens: Internment in Canada, 1914–1920
This exhibition explores Canada's internment operations that began during the First World War. "Enemy aliens" was a term commonly used to describe citizens of states legally at war with the British Empire who resided in Canada during the war. Between 1914 and 1920, the federal government interned 8,579 people identified as enemy aliens in a network of 24 camps across Canada. 
One hundred years later, using photographs drawn from Canadian archival collections, we reflect on the country's first national internment operations and the experiences of the internees: who they were, the conditions they endured, and the legacy they left. The Musée Héritage Museum has also added some content from the Second World War illustrating the Government's treatment of Japanese, Italian and German nationals during that conflict.
This exhibition has been developed by the Canadian War Museum in partnership with the Ukrainian Canadian Civil Liberties Foundation.
We gratefully acknowledge that funding for the Enemy Aliens exhibition was provided by Canadian Heritage (Patrimoine canadien) through the Museums Assistance Program.