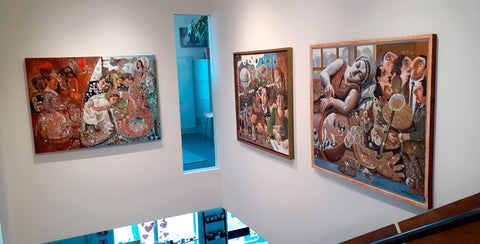 STAIRCASE FEATURE EXHIBITION
Differentiated Reality/ Realidad Diferenciada
Pepe Hidalgo

February 9 to May 8, 2021
Hidalgo's art is uncanny. It is earthly and yet not quite of our place and time. The confounding and compelling compositions depict moments and stories, captured from alternate realities…perhaps.
Born in Spain, and now British Columbia-based, Hidalgo predominantly paints sizeable acrylic works that express many competing states of consciousness. The highly stylized and intricate paintings show a deep understanding and appreciation of art history, in part influenced by frequent childhood visits to the Museo del Prado in Madrid.
Hidalgo's paintings are portals. Through them we observe intriguing people, places and objects, interactions that seem both commonplace and bizarre. One cannot help but be allured by their layers of narrative. The veil between reality and illusion is subtle. The works show influence from mythology, history, and astronomy. They are magical and scientific, existing on the cusp of something we cannot, and probably never could grasp.
"It is said that art has no borders. It is only a state of consciousness and therefore, there are people who have the ability to visualize these different states of consciousness. My series on Differentiated Reality crosses borders, time, dimensions, and it gives us the liberty to traverse many frontiers that may have been created by others or by ourselves".  Pepe Hidalgo


---
Image Credits: Exhibition view, Pepe Hidalgo, Differentiated Realities. Art Gallery of St. Albert from February to May 2021; Pepe Hidalgo, The Dream of Reason, Acrylic on Canvas, 34×40", 2017. Pepe Hidalgo, The Game of Hands, Acrylic on canvas, 34×40", 2017; Pepe Hidalgo, Creating your own Reality, Acrylic on canvas, 36×48", 2018.