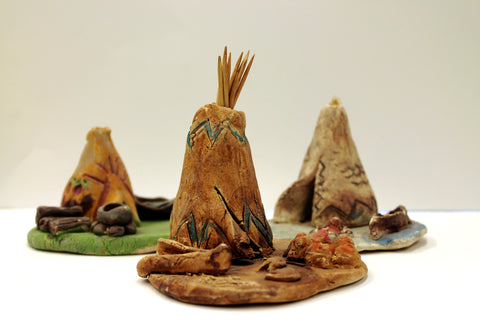 Tipi Scene
Grade(s): 4, 5, 6, 7, 8, 9, 10, 11, and 12
Location: Visual Art Studios at St. Albert Place (Art Gallery of St. Albert)
Program Delivery: In Person, In School, and Virtual
The Indigenous peoples often travelled the plains. Because of this, they developed a unique portable house form known as a tipi. Today, tipis retain cultural significance and are sometimes constructed for special functions. Using a range of hand-building techniques, shapes and details, students will make a three dimensional tipi scene.
*Note: All in school and virtual clay programs use air dry clay which is much less durable than clay that is bisque fired at our visual art studios. We cannot transport clay from in-school programs to the visual art studios for firing, but if your school has a kiln and a technician, we can supply suitable clay for firing at your school. 
Click here for information on in school techniques for finishing air dry clay.
Curriculum
Art: Make experimental and informed artistic choices when creating artworks

Social: Alberta: The Land, Histories & Stories; Communities in Canada
Student Outcomes
Learn how to organize the elements of art to create shape and form with proportion, geometric and organic design

Differentiate between two- and three-dimensional shapes

Students relate how culture is reflected in visual arts across time and place

Create art for enjoyment
Suggested Pairings
Tipi as Home – Musée Héritage Museum