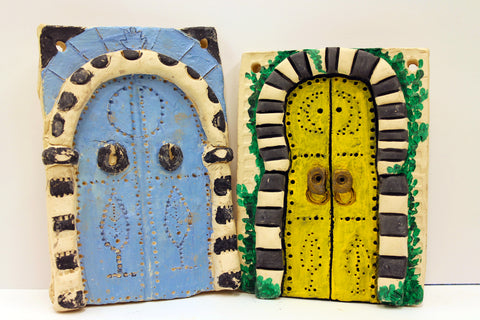 Tunisian Doors
Grade(s): 2, 3, 4, 5, 6, 7, 8, 9, 10, 11, and 12
Location: Visual Art Studios at St. Albert Place (Art Gallery of St. Albert)
Program Delivery: In Person, In School, and Virtual
Tunisia is well known for its beautifully decorated doors. Wooden doors are adorned with nail head designs and symbols meant to represent the owner's beliefs. Doors are most often painted a vivid blue to represent blue sky and good fortune. Students will create their own unique artwork out of clay inspired by the doors of Tunisia.

*Note: All in school and virtual clay programs use air dry clay which is much less durable than clay that is bisque fired at our visual art studios. We cannot transport clay from in-school programs to the visual art studios for firing, but if your school has a kiln and a technician, we can supply suitable clay for firing at your school. 
Click here for information on in school techniques for finishing air dry clay.
Curriculum
Social: Communities in the World




Art: Creativity and its relationship to computational thinking
Student Outcomes
Learn interesting facts about Tunisia

Learn about symbolism, beliefs and culture

Create a message in artworks through the use of patterns, signs, and symbols

Create art for enjoyment
Suggested Pairings

St. Albert and Tunisia – Musée Héritage Museum

Tunisian Mosaics – Art Gallery of St. Albert