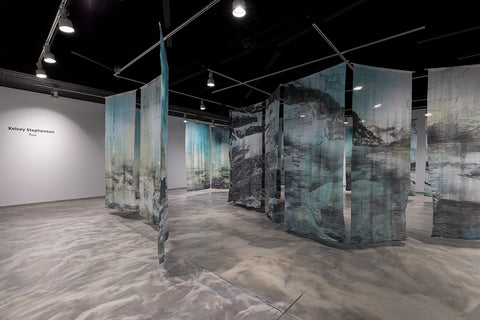 Connected Currents
March 16 to April 27
Kelsey Stephenson
Kelsey Stephenson's immersive exhibition Connected Currents focuses on Alberta's watershed. Through three related bodies of work, she envelops us in the beauty and fragility of this life sustaining system. Regardless of where we live, we are connected to and reliant on water.
Suspended in the center of Gallery will be Flux, a series of 27 silk panels, each three feet wide by nine feet tall. Stephenson photographed iconic locations across the province, focusing on the water that flows out of the Glaciers to feed into the Athabasca, Bow and North Saskatchewan Rivers. Flux brings these disparate locations close together. Flowing across the panels, scenes of Alberta's waterways surround the viewer, emphasising the interconnectedness of each of these sites through water.
Currents, the second work in the exhibition, grew out of Flux. Using the same images as a starting point, Stephenson also includes human activity along the river. Sites of industry, history and agriculture blend with views of seemingly wild spaces. Currents is monumental. Hundreds of works were created using screen printing and cyanotype techniques. Hung together they create a single constructed landscape, spanning over 36 feet in length.
While Flux and Currents connect locations along the watershed separated by distance, the last series of individual works reconnects locations separated by time.  Stephenson merges archival photographs from land surveys and early marketing brochures with the same view of the landscape today. Delicate and ghostly, these works drive home the dramatic changes that have taken place over the last century.  
 "Each series of works trace the connections found between the glacial headwaters of the North Saskatchewan River and amiskwacîwâskahikan, the City of Edmonton. They reinforce how those actions taken now, earlier, or later and in different locations all tie back into one another." – Kelsey Stephenson, 2022
Image Credit: Kelsey Stephenson, Flux, installation with silkscreen, acrylic ink, silk fabric, sound, dowels, each panel is 72x36" (27 panels total), 2020.