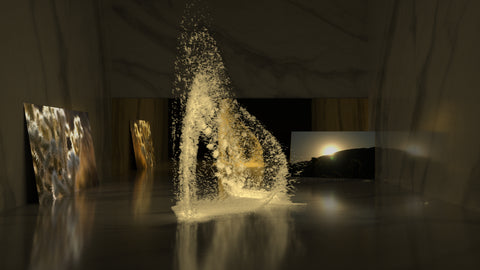 MAIN EXHIBITION
And All of Everything
Brad Necyk + Gary James Joynes

June 16–August 13, 2022.
Beyond the black velvet curtain lies a window to another world. Viewers are met by a single monumental screen floating in the center of the space, accompanied by unearthly tonal compositions. Visual artist Brad Necyk and composer Gary James Joynes transport us to an extraordinary digital environment.  
And All of Everything is an immersive audio/visual experience. Two minimalist experimental films play in a never-ending loop. The works reflect on the nature of time, consciousness, ecology and climate change. Passing through cycles of day and night, we wander the space between consciousness and dreaming.  
Inspired by two iconic landscapes; the arid deserts of Joshua Tree, California, contrast beautifully with the lush forests of Avatar Grove on Vancouver Island.  
At first, the video's digital environment seems timeless – a mausoleum to landscapes at risk of annihilation. But as the light fades, dreams take hold, sweeping us away into the realm of the mystical. 
---
Image Credit: Brad Necyk and Gary James Joynes, And All of Everything (Joshua Tree), still from 25-minute 3D rendered video, 2019.