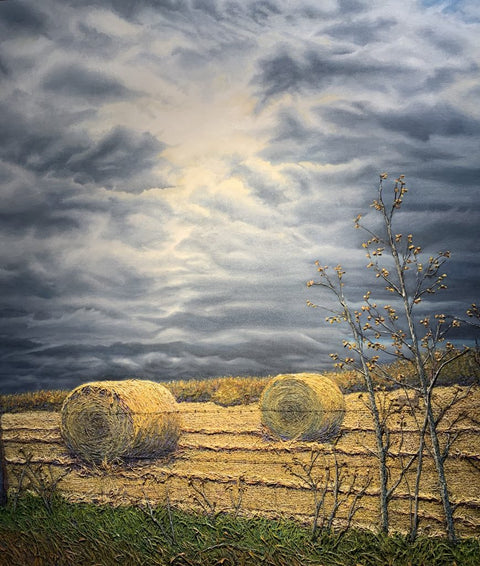 STAIRCASE FEATURE EXHIBITION
Along the Sturgeon River
Elaine Mulder

November 10, 2020 to February 6, 2021

Elaine Mulder is a mixed media artist from Parkland County whose sculptural paintings reflect upon the wonder of nature and the Alberta countryside. Along the Sturgeon River is a stunning journey of light and colour, celebrating a local treasure and vital ecosystem.  
Using an array of reclaimed, manmade and recycled materials, Mulder painstakingly and meticulously constructs serene natural environments that promote reflection and contemplation. Her materials include items destined for landfill ranging from egg cartons to jute, plastic containers to electrical wire, plastic beads to twist ties. Preparing and experimenting with these products is labor intensive, but through Mulder's thoughtful process, these scraps are combined with painting and drawing media to create an effective depth of field in her work.  
These highly textural and representational compositions attempt to elicit a sensory experience, conveying the healing power of the unspoilt natural world.  
---
Elaine Mulder, Harvest Finished before the Storm, mixed media, 43x48″, 2020